Let me just say this from the start: I love this seedy no-knead bread with spelt! I made it the last three weeks in a row and just can't seem to get enough of it. There are just so many awesome things about it. The crust is super crunchy thanks to it being baked in a dutch oven. The mix of white and spelt flour gives the bread a very pleasant, and not too dense, consistency. The seeds provide a nice texture and extra crunch. And finally, the no-knead technique makes the bread so easy and fast to make.
The no-knead technique
This seedy no-knead bread with spelt is inspired by the Almost No-Knead Bread by Cook's illustrated. They took the original flour, yeast, water no-knead recipe apart and reassembled it with improvements, adding little touches like beer and vinegar to improve not only flavor but also texture.
The no-knead technique is based on precisely what the name implies not kneading your bread. Instead, the gluten strands are formed through very long fermentation (or rising) time. The ingredients are simply combined and then allowed to rise for 12-15 hours. This technique greatly reduces hands-on time and is easy to achieve even for absolute beginners.
15 hours of rising time may seem intimidating when you first read it, but it is perfect for making fresh bread for breakfast. I usually start the dough on Saturday around 5-6 pm and allow it to rise overnight. I then shape it first thing in the morning and let it rest for another hour or so while getting ready for the day. Then I bake my seedy no-knead bread with spelt, and it will be ready by the time my partner gets out of bed (he's a long sleeper :P)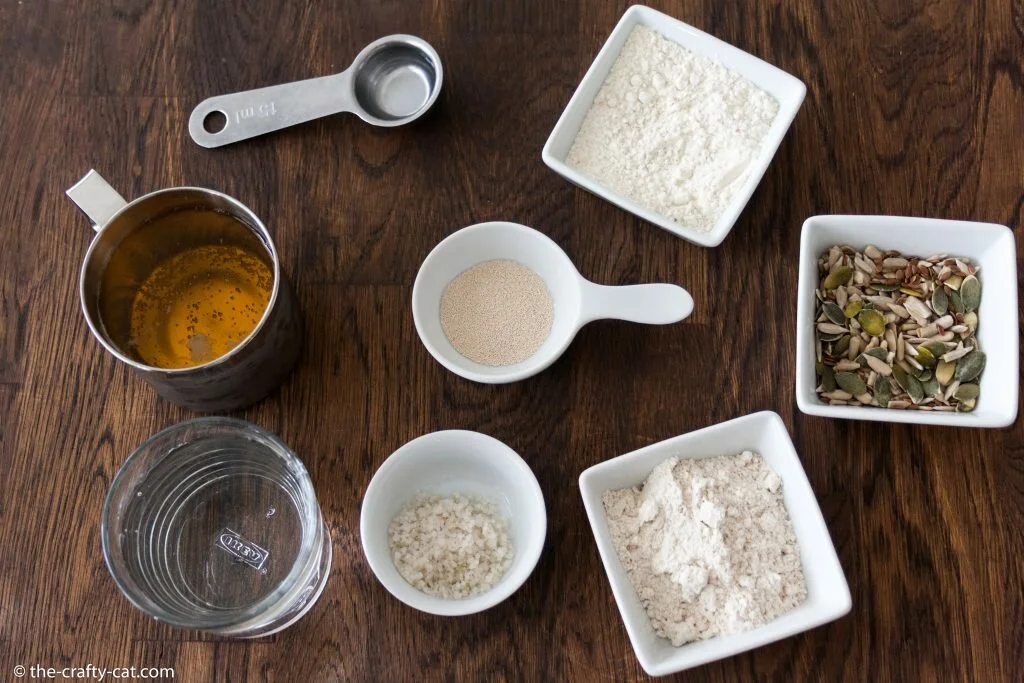 Spelt – an ancient grain
Spelt, as exotic as it may seem, is nothing other than an ancient species of wheat. It was highly popular in medieval Europe before it was replaced with today's bread flour in the 20th century. However, spelt has several advantages over 'regular' wheat flour. For starters, it requires fewer fertilizers than bread wheat. It is also healthier than wheat flour in many ways. For example, it is naturally whole-wheat as the vital nutrients in spelt are found in the inner kernel rather than like bread wheat in the bran and germ. In addition, spelt is more easily digested and its nutrients absorbed by the body due to its high water solubility. Finally, it also contains more protein, fat and crude fiber than wheat (source).
All of this was the reason why I really wanted to develop a good bread recipe containing spelt. As you will notice this recipe is only 1/3 spelt. The reason for this is twofold. Firstly, I found that I enjoyed the flavor better when the bread wasn't 100% spelt because that resulted in a milder flavored loaf (spelt has a somewhat nutty flavor). Moreover, spelt is quite expensive here, so mixing it with regular flour allows me to boost the nutritional value of the bread while not increasing the cost by much. You can, however, make this bread 100% spelt. In that case, I would recommend slightly reducing the water and rising time.
Shop materials for this recipe on Amazon.co.uk:
Doves Farm Organic Speciality White Spelt Flour, 1Kg

Doves Farm Organic Wholemeal Spelt Flour, 1kg

Sharpham Park Organic White Spelt Flour, 1 kg
‹ ›
Baking in a dutch oven
A final thing you may notice about this bread is that it is baked in a dutch oven. This little trick is what gives this seedy no-knead bread with spelt a crunchy crust and a soft inside similar to what you may find in a bakery.
Commercial bread ovens usually inject steam during the baking process. While this isn't possible in home ovens, baking the bread in an enclosed vessel such as a dutch oven allows you to replicate the conditions present in a commercial oven.  The dutch oven traps water evaporating during the baking process inside and creates conditions of similar humidity as commercial ovens.
I highly recommend trying this method. If you don't have a dutch oven, there are a few alternative methods you can try:
A pot covered with aluminum foil
If you don't have a lid or your lid contains plastic, simply cover your pot with aluminum foil. Be sure to try to seal the seam as good as possible.
A metal pot (such as stainless steel)
Make sure it can withstand the temperatures and that the lid doesn't contain plastic.
A casserole or baking dish
Once again check the temperature rating.
A clay baker or Romertopf
Soak the pot in water for 10 minutes before preheating it with the oven (I haven't tested this one yet, so be sure to read the instructions for the pot before trying it)
Shop materials for this recipe on Amazon.co.uk:
VonShef 4.5 Litre Enamel Coated Round Cast Iron Casserole Dish

-13%

Dutch Oven 4Ltr Cast Iron Cooking Pot

Lodge EC6D38 Enameled Cast Iron Dutch Oven, 6-Quart, Lagoon
‹ ›
If you like this post, don't forget to pin it!
Seedy No-Knead Bread with Spelt
Seedy No-Knead Bread with Spelt
This seedy no-knead bread with spelt is easier to make than it looks. The recipe requires almost no hands-on time and makes a delicious crusty loaf of bread.
Ingredients
300

g

all-purpose flour

150

g

spelt flour

whole wheat

4-8

tbsp

seeds mixed

e.g. flax, chia, sesame, pumpkin, sunflower etc

1

g

instant yeast

1.5

tsp

salt

300

ml

water

50

ml

lager or ale beer

1

tbsp

distilled white vinegar

1

tbsp

seeds for topping

optional
Special equipment
1

Dutch Oven

see post section on dutch ovens for alternatives
Instructions
Mix flours, seeds, yeast, and salt in large bowl. Add the wet ingredients (water, beer, and vinegar).

Mix everything together with a spoon (or your hands) until it forms a dough or ball. Mix just until the ingredients are combined.

Cover the bowl with a kitchen towel or cloth and allow it to sit at room temperature for 12-15 hours.

After the rising time, your dough should look bubbly and at least twice as large.

Transfer dough to lightly floured surface and knead it briefly (about 20 seconds). Then shape the dough into a ball or loaf shape

Place the loaf in a bowl lined with baking paper. Cover it with a kitchen towel and allow it to rise at room temperature a second time for 1-2 hours

About 30 minutes before baking, place your dutch oven into the second oven rack from the bottom and heat your oven as hot as it will go or 500°F (260°C) (be sure to check what temperature your dutch oven is rated for before heating it!).

Once your dough has finished rising, cut a slit along the top using a razor blade or sharp knife. It should be about 1/4 inch (6 mm) deep. This allows the bread to expand evenly

Optional: Brush the top with water and sprinkle 1 tbsp of seeds on top. Or sprinkle with flour for a rustic look

Remove your preheated dutch oven from the oven (don't burn yourself) and lift the loaf inside using the parchment paper. Close the lid, leaving any extra paper to hang out, and return the pot to the oven.

Reduce the oven temperature to 425°F (or 215°C) and bake the loaf with the lid on for 30 minutes. After 30 min, remove the lid and allow the bread to bake another 20-30 min or until it is golden brown. Then remove the loaf from the oven and allow it to cool slightly on a wire rack before cutting and serving
Notes
If you aren't sure if the bread is done purely by looking at it, there are a few cheats you can use: 
Knock on the bread, it should sound hollow
Measure the core temperature with a thermometer it should be at around 190°F (88°C)
I highly recommend using a scale for this recipe for the sake of accuracy. Bread just doesn't get as accurate with volume measurements. However, if you do not have a scale, here are the cup measurements for you:
2 cups all-purpose flour
1 cup spelt flour
1/4 tsp yeast
11/2 tsp salt
1 cup water
1/4 cup beer
1 tbsp vinegar
If you make this bread be sure to share it on Instagram and tag me @laurathecraftycat so I can see your creation!
Similar posts you may enjoy
This post was shared on: Homestead Bloghop