This no-melt chocolate body butter is the right choice for those of you out there who want something they can finish fast. The body butter only takes around 10 minutes to complete and is completely natural and preservative free. The cocoa powder not only adds a luxurious feel and scent it also gives the body butter a slightly bronzing effect.
The no-melt technique
This no-melt chocolate body butter is made using what I call the no-melt technique. Unlike most body butter recipes (like my shimmering rose body butter), this recipe does not require you to melt and resolidify the butters. This saves a lot of time and results in a lighter slightly more creamy butter (in my opinion). The only downside of this technique is that you need to ensure that your ingredients are room temperature for them to blend uniformly. You also need to be patient with the blending process, starting slow and speeding up as the butters soften.
The ingredients
In this section, I will take a closer look at the ingredients of this no-melt chocolate body butter. As mentioned before, it's all natural and preservative free. If you want to better understand why this product is preservative free and still safe, check out my post on Safety in Homemade Skincare. The ingredients in this body butter are also great for dry and even sensitive skin (although coconut oil can cause clogged pores in some).
Shea Butter
As I already mentioned in my lotion bar recipe, shea butter has great moisturizing properties, is anti-inflammatory and thus good for damaged or irritated skin. It can, moreover, have anti-aging effects thanks to it stimulating the production of collagen. Shea butter forms the basis of this chocolate body butter and gives it its light and creamy texture.
Cocoa Butter
Cocoa butter is another one of nature's powerhouses. It is extracted from cocoa beans which are also the source of cocoa powder and chocolate and thus has a chocolate-like aroma. Cocoa butter is great for reducing the appearance of scars and inflammation. If you do not have cocoa butter at home, you can also substitute it for more shea butter, however, I would highly recommend using it.
Coconut Oil
Coconut oil is highly moisturizing. It can protect the skin from damage thanks to its antibacterial properties. It is also great for treating certain skin disorders such as acne, psoriasis, and eczema. You can read more about the some of the benefits of coconut oil here.
Sweet almond Oil
Sweet Almond oil is rich in vitamin E and A and nourishes the skin by sealing the moisture in the skin. In this recipe, it is used to make the body butter more liquid and spreadable. You can easily substitute it for another liquid oil such as grapeseed, jojoba etc.
Cocoa Powder
The cocoa powder in this chocolate body butter not only gives it that extra punch of chocolate it also gives it a light bronzing effect. Depending on your complexion and how much bronzing you can, you can vary the amount of the cocoa powder or leave it out altogether. I would recommend starting with a little and then gradually adding more until you get the desired amount.
Shop materials for this recipe on Amazon.co.uk:
-50%

Naissance Organic Shea Butter (no. 306) 500g - Pure, Natural, Certified Organic, Unrefined, Hand Kneaded, Vegan & Fragrance-Free

Organic Raw Virgin Coconut Oil 500ml

The Raw Chocolate Organic Virgin Cold Pressed Cacao Butter 240 g

-38%

Naissance Organic Sweet Almond Oil 100ml - Pure & Natural, Certified Organic, Cold Pressed, Vegan, Hexane Free & No GMO. Ideal for Massage, Skincare & Haircare

-37%

Cocoa powder, Organic vegan, dark chocolate ingredient, unsweetened, dairy free and ideal for baking, hot chocolate drinks and smoothies - 200g - By Nutri Superfoods
‹ ›
If you like this post, don't forget to pin it!
No-Melt Chocolate Body Butter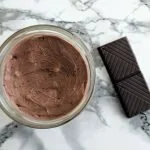 No-Melt Chocolate Body Butter
Learn how to make a no-melt chocolate body butter that is completely free of preservatives and all natural. The no-melt technique doesn't require melting the butters before whipping the body butter
Servings
:
1
jar (7 fl.oz./200 ml)
Ingredients
30

g

shea butter

(room temperature)

30

g

cocoa butter

(room temperature)

20

g

coconut oil

20

g

almond oil

1/2

tsp

cocoa powder

(see notes)
Instructions
Combine butters, oils and cocoa powder in a medium bowl. All ingredients should be room temperature to blend evenly, if they are too cold, your butter may turn out lumpy.

Using a hand mixer or stand mixer slowly begin mixing together the butters and oils. Increase the speed as you are mixing and whip until everything is well combined and creamy.

Using a spoon or spatula, transfer the body butter into a container or jar. Store airtight and use as desired.
Notes
The cocoa powder has a slightly bronzing effect. Use more or less depending on how strong you want the effect to be or leave it out altogether.
Avoid getting water into the butter and it should last up to 6 months. If you see any signs of mold or spoilage discard it.
If you make this body butter be sure to let me know in the comments below or on Instagram @laurathecraftycat
Other posts like this one you may like:
Coffee Vanilla Brown Sugar Scrub
Infusing Oils for Cooking and Skincare
This post was shared on: Homestead Blog Hop