You've probably heard of bentonite clay or seen it in a DIY project. It has become quite popular recently and for good reason. Bentonite clay has amazing detoxifying properties and can be used in many different ways. Today, I'd like to share on of my favorites which is a bentonite clay hair mask.
What is bentonite clay & what does it do?
Bentonite clay (or Montmorillonite) is composed of volcanic ash and mostly harvested in France, Italy and the U.S. It has been used for centuries by indigenous cultures  in the Andes, Central Africa and Australia for healing.
Bentonite clay can be used both internally and externally to detoxify and cleanse body or hair. In addition it contains many valuable minerals and vitamins.
When you , there are a few things to look out for. Make sure you buy it from a trusted high-quality source as some cheap types of bentonite clay can contain trace amounts of lead and other heavy metals. It should be gray or cream colored, not bright white. It should also be odorless and not have any particular taste.
If you like this post, don't forget to pin it!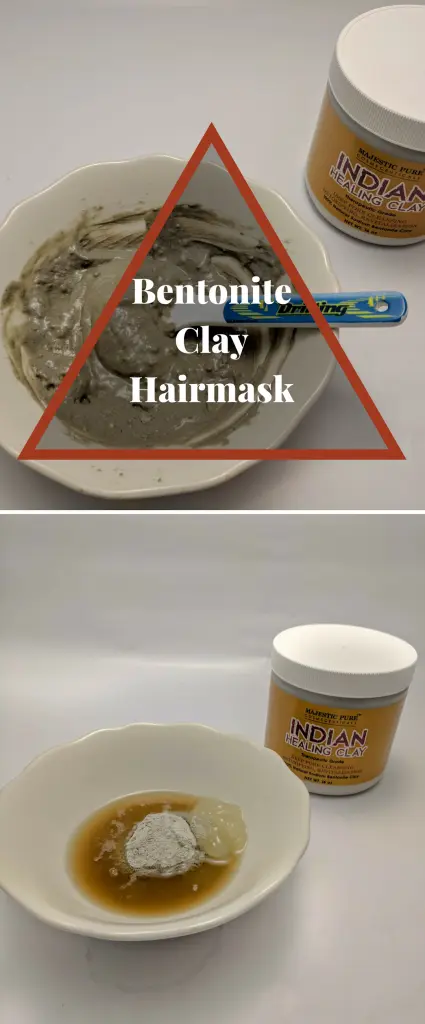 Bentonite Clay Hair Mask
Bentonite clay is also great for your hair. It can be used as a shampoo alternative if you are doing no-poo or simply as a scalp detoxifying and nutrient packed hair mask that you can use as part of your wash.
It cleanses without stripping, makes the hair shiny, acts as a natural detangler and  enhances curl pattern. This makes this hair mask ideal for curly or thick hair. However, it can really be used for any type of hair.
Shop materials for this recipe on Amazon.co.uk:
-17%

Braggs Organic Apple Cider Vinegar, 946ml

Aloe Vera Gel from Organic Cold Pressed Aloe - 100% Natural for Face, Body, and Hair - 237 ml

Fantastic Delightful Aloe Vera Plant Excellent healing benefit - Aloe Vera Gel - Next day delivery option - Aloe Vera, Aloe vera plants, Aloe plant, Aloe Vera plant, Healing, Aloe Vera Gel, evergreen, easy care, treating burns cuts rashes, gift, plant gifts, kitchen plant, houseplant, office plant, Christmas, Christmas gifts, Christmas presents, Xmas gifts, Xmas, Small plants.
‹ ›
Bentonite Clay Hair Mask
This bentonite clay hair mask is a great shampoo alternative. It detoxifies and cleanses the scalp, acts as a detangler as well as enhances shine. Use instead of shampoo or in addition to show your hair  some extra love.
Ingredients
1/2

cup

bentonite clay

1/4

cup

apple cider vinegar

1

tbsp

aloe vera gel

oils, honey

(optional)
Instructions
Mix all ingredients until you get a yogurt-like consistency (adjust liquid as necessary).  

Dampen your hair. Apply the hair mask to your hair and scalp, making sure that every strand is coated


Let sit 20-25 minutes. Then rinse thoroughly with warm water. Use around once a month or as needed
Notes
Make sure mixture doesn't dry in you hair, so cover with a shower cap or something else to keep it from drying.
Apply any leftover mixture to your face as a face mask.
 And remember to have some fun with the bentonite clay hair mask 🙂