As you may know if you've read my 2018 Sustainability Goals, I have chosen to put the sustainability of my lifestyle at the forefront of my personal agenda this year. I have actually even dedicated a section on the blog just to Sustainability, so if you are looking for more inspiration on what you could do, check out the section. One of my goals for this year was phasing out plastic as well as generally reducing single-use items. In order to make it easier for both myself and you, I decided to create this roundup post containing 10 single-use items that can be replaced with cloth.
When beginning the journey towards more sustainable or zero waste living, it can feel quite overwhelming at the beginning. It can also be tempting to replace all your single-use, plastic or other 'non-eco' items with sustainable alternatives all at once. However, as tempting as it may feel to get this 'clean slate', it would actually be counterproductive as well as defeat the point of creating a sustainable lifestyle, not to mention how expensive it would be to replace everything all at once.
The key is to take it slow, replace items as they run out, change habits one or two at a time and focus on making lasting changes rather than drastic ones that may cause you to relapse. I myself haven't made every single change on this list yet because it is a journey and not a race. Plus, if your a stockpiler like me it takes a while to run out of stuff.
1. Shopping bags & produce bags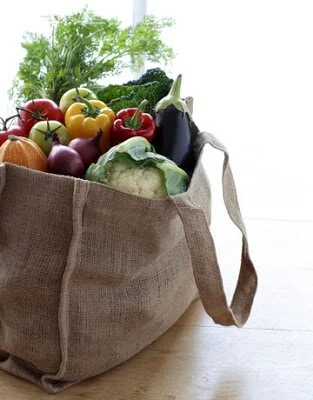 One of the simplest and easiest single-use items that can be replaced with cloth are shopping bags. Plus, if, like me, you live in a country where shopping bags aren't free it will save you a good amount of cash. If you don't already have some laying around your home, buy yourself some cotton shopping totes. They are fashionable, washable, and last forever.
Produce bags, the little plastic bags you use for your produce in the supermarket, are another item that can easily be replaced at the same time. Popular alternatives for plastic produce bags are usually cloth drawstring bags or mesh bags, which are both washable and very versatile. An added bonus of having these bags is that they come in super handy for many other things as well, such as avoiding bags at bakeries or for other small items.
A good tip if you are just starting out with using reusable shopping bags and produce bags is to simply keep one in all of your purses at all times. That way you don't have to remember to bring them with you. I actually never leave the house without one anymore. Oftentimes, it comes in super handy to have a bag on you.
Products from Amazon.co.uk
Han.gry Large Cotton Tote Bag Funny Hungry Hangry Joke Shopping Food Xmas Gift

-20%

I Was Normal Three Cats Ago Shopping Tote Bag

RETON Mesh Bag Organic Cotton String Shopping Tote Net Woven Re-usable Bag - White , 15inch

All Cotton and Linen Best Reusable Organic cotton Mesh Produce Bag for Grocery Shopping & Storage - Set of 3 (1 ea. XL, L, M) - Drawstring, Tare Weight, Washable, Zero Waste Shopping

Earthwise Reusable Mesh Produce Bags - Tare Weight Tags On Every Bag Premium Machine Washable Grocery Set Of 9 - 3 Different Sizes 12X17In, 12X14In, 12X8In
‹ ›
2. Napkins
Getting washable cloth napkins instead of paper is another easy switch that saves money in the long run. If you use napkins at that is. We don't really use napkins, but I think I will invest in a pretty set soon for when we have company. Cloth napkins look a lot more elegant and fancy than paper, which is another added bonus of making the switch.
You can make your own or just use old fabric scraps. Alternatively have a look in thrift stores. If all else fails, there's Amazon below.
Products from Amazon.co.uk
Sweet Needle - Pack of 12-100% Cotton Oversized Dinner Napkins 50 CM x 50 CM (20 IN x 20 IN), Multicolors - Heavy weight fabric for daily use with Mitered corners finish

Homescapes - Four - Cream - Napkins - 100% Cotton - 18 x 18 Inch (45 x 45 cm) Easy care table Hand Woven Napkins - Washable at 40 Deg C

Sherwood 100% Cotton Napkins Table Dinner Cloth 15'' x 15''(40 x 40CM) for Hotel Wedding Resturant Party Home Set of 12 (White)
‹ ›
3. Cling film (Plastic Wrap)
This was one of the easiest single-use items that can be replaced with cloth for me to get rid of. I made my own beeswax wraps and haven't looked back since. Granted, I was never a heavy user of cling film because I always got it tangled up. However, beeswax wraps nowadays are so easy to come by and convenient to use that I'm sure it will convince even the most loyal plastic wrap user. Plus they make a great homemade gift that is both pretty and useful.
If you don't want to make your own, they can also be purchased from brands such as Bee's Wrap (UK, US) or Abeego (US).
4. Paper towels
Paper towels are one of those single-use items that can be replaced with cloth but are notoriously hard to let go of. I have tried and failed several times before. This time I think I may have gotten on top of it, although my partner still asks for them sometimes (haven't given in yet :P). The best way to let go of paper towels is to start with reducing your usage. For instance, move your role of paper towels from the counter to inside the pantry or another room altogether. Instead of paper towels, I have a jar of cloth squares standing on my counter. I am using microfiber right now, but I will need to replace them with cotton or linen because they are not very absorbend and they are shedding little pieces, which I do not want on my food.
Cloth paper towel replacements are often called unpaper towels. While there are some fancy finished versions out there, you can also easily make your own, like with this tutorial from Healing Harvest Homestead (no sewing required). Alternatively, you can buy and repurpose some dish towels if commercial unpaper towels are too pricey for your taste.
Products from Amazon.com
Paperless Towels, 2-Ply, Heavy Duty Made from Organic Cotton Birdseye Fabric - 11x12 inches (28x30.5 cm) Set of 10 in Rainbow Assortment,

Heavy Duty-Paperless Towels, 2-Ply, Made from Natural Unbleached Cotton Birdseye Fabric - 11x12 inches (28x30.5 cm) Set of 10 in Assorted Earthtone Colors

-8%

Le Swipe (6-Pack) 100% Organic Birdseye Cotton Unpaper Towel/napkin - Super Absorbent + Soft! 13" X 14"
‹ ›
5. Tissues
This one is next on my list. While I, luckily, don't get colds often, when I do I have the bad habit of using toilet paper and that not only a waste of resources, it also makes my nose really sore. Cloth tissues, which you may remember from you grandma or grandpa (at least I do) are a great alternative. They can be washed and reused easily and they are also useful to have around for other things (such as when you need a napkin or spilled something (just be sure to use a clean one then otherwise your just germ spreading).
I would recommend either using scrap cloth or looking for old tissues in thrift stores (which can be quite beautiful).
If you like this post about single-use items that can be replaced with cloth, don't forget to pin it!
6. Cotton rounds or pads
If your a woman who likes to wear make-up, you probably know why cotton rounds definitely deserve a place in this list of single-use items that can be replaced with cloth. They are so easy to use and toss in heaps. Luckily, there are also some great alternatives available if you'd like to reduce or eliminate your usage of disposable makeup-removal pads.
One option is sewing your own reusable cotton pads, another is crocheting them (if that is more your thing), finally you can also buy them. Either way, cotton or bamboo are the best fabrics (or threads) to use. If you want a little more than just a standard cotton round, you can also use them to make reusable facial cleansing wipes.
Products from Amazon.co.uk
Earth Softly Washable Cleansing Pads Soft Bamboo

ImseVimse Washable Cleansing Pads Pack of 10 (White)

Washable Cosmetic Pads Organic Cotton Natural Set of 6
‹ ›
7. Gift Wrapping Paper
Gift wrapping paper may not be an obvious item on the list of single-use items that can be replaced with cloth, but it is one to think about. According to the Telegraph, the UK alone used enough wrapping paper in 2011 to stretch nine times across the planet (source). Crazy right?
There are several alternatives for wrapping your gifts (here are some more tips by Trash is for Tossers) with cloth being only one of them. The nice thing about using cloth as wrapping paper is that you can make it part of the gift (such as by using a scarf) and that it looks much more elegant than paper. Another alternative is to use cloth drawstring bags for gifts. You could even premake a set of bags to use (and reuse) in your family that are all the same size if you are trying to reduce the amount of giving (or make it more even if that is an issue in your family).
8. Period pads or sanitary napkins
*Guys, feel free to skip this one*
This is something that I am currently tackling and will write a separate post on soon. Period pads (as well as tampons) are another notoriously wasteful product that we could actually easily replace by using washable period pads and/or menstrual cups. After use you simply rinse the sanitary napkin and store it in a wetbag until you throw it in the wash.
This may be a bit of a change, especially if you aren't used to seeing any of your bodily fluids, but it is definitely worth it, if alone for the monetary incentive. You can of course make period pads yourself, but they can also be purchased, since that would be a slightly more advanced sewing project. Here are some options if you want to use Amazon:
Products from Amazon.co.uk
Caring Panda - Reusable Bamboo Cloth Sanitary Pads - MEDIUM FLOW - Washable Cloth Menstrual Napkins Premium Bamboo Quality - 5Pack Flower Pattern - Charcoal Layer to Avoid Leaks, Odors and Blood Stains (Medium, 23cm / 9inches, Flower Field)

Reusable Menstrual Pads, 6-Pack Cotton Reusable Sanitary Pads with Wings (size S & M), MADE IN EU, for Menstrual Periods and Incontinence; Washable Cloth Pads w/o Chemicals; Washable Menstrual Cloth

-50%

Dutchess Reusable Sanitary Panty Liners - Cloth Menstrual Period Pads - Regular MEDIUM FLOW - Bamboo 5x - With Charcoal Absorbency Layer to Avoid Leaks, Odors and Stains
‹ ›
9. Diapers & Baby Wipes
Cloth diapers is something I have no experience with (since I don't have children), but I definitely plan to use them on my own kids one day. Cloth diapers are not only much cheaper than commercial diapers, they are also more environmentally friendly and simply more natural for your child (less diaper rash too, I hear). Homesteading Unrefined has a nice Cloth Diapering 101 post to get you started if this is something you would like to start doing. I won't comment any more on this one because as I've mentioned I am not an expert on this subject.
In addition to replacing single-use diapers with cloth, you can also replace your baby wipes with cloth wipes. You can buy cloth wipes for this purpose, but I would suggest again using fabric scraps or simply making your own buy buying a piece of fabric from the fabric store.
10. Toilet paper
This may be one of the single-use items that can be replaced with cloth that may be a bit out there for some, but it is totally possible to replace your toilet paper with cloth wipes. If installing a bidet or other attachment on your toilet is not a viable option for you, but you still wish to take the step of eliminating toilet paper, this may just be the way to go. This is also something I haven't tried yet, but would like to possibly look into in the future (at least for number 1)
You can simply use old fabric scraps, or buy cloth wipes. After use, store the wipes in a wet bag, then simply wash and reuse. This is sometimes also referred to as family cloth. The Fairly Local Vegan has an interesting YouTube video on this.
I hope you enjoyed this posts about 10 Single-use items that can be replaced with cloth. If you have any other ideas for cloth replacements let me know in the comments below!
Other posts like this one:
Saying No to Fast Fashion – Alternatives for a Sustainable Wardrobe
Capsule Wardrobe – What Is It And Why Am I Trying It?