Disclaimer: This post contains affiliate links. If you make a purchase using this link, I earn a commission. The price remains the same for you. This helps me cover the costs for this blog. I stand behind all the brands I support and select them based on the quality of their product and their ethical stance.
Most of us have memories from when we were a kid and we hurt ourselves and our mom or dad produced that magic salve or ointment that made everything better. I sure do. Sadly, now that I am older, I know how much unnecessary junk is in many of these over the counter salves and ointments and would be hesitant to put that on my kid (if I had one that is). But thanks to the calendula, one of natures powerhouses, all hope is not lost for a magical boo-boo salve. Lucky for me (and you), making your own calendula salve is super easy. It is also super cheap to make, especially if you grow your own calendula. This calendula salve is a true first aid champion and great to have around for anything that needs a little extra love.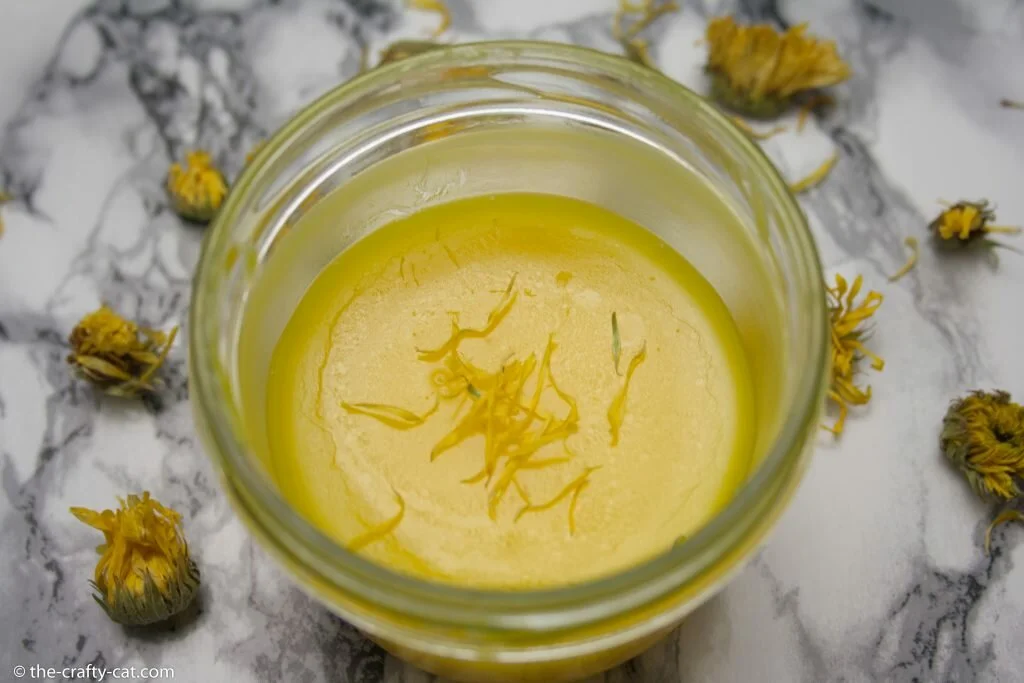 Uses for calendula salve
What makes calendula such a great all-rounder is that it is gentle enough for use on sensitive skin, babies and pets and yet potent enough to heal, fight germs and inflammations. This simple salve that can treat almost all minor skin problems and wounds. It is a great addition to any first aid kit!
I use it on:
scrapes and cuts
blisters
mild burns
insect bites
bruises
dry skin or lips
rashes or other irritations (I hear it is great for diaper rash)
Infusing oil with calendula
In order to make a calendula salve you will need calendula infused oil. You can learn how to infuse your own in my post about infusing oils. To do so you will need to use dried calendula flowers and a carrier oil.
If you are growing your own calendula, simply spread the fresh flowers out in a warm, sunny spot and allow them to dry for 2-3 days before using them to infuse an oil. You can also purchase dried calendula flowers on Amazon. As my carrier oil I used organic sunflower oil as my carrier oil to infuse the calendula in. Other great choices would be almond oil, olive oil, grapeseed oil or safflower oil.
If you are in a hurry, you can also purchase calendula oil finished to speed up the process. This way you can have this salve done in no time at all.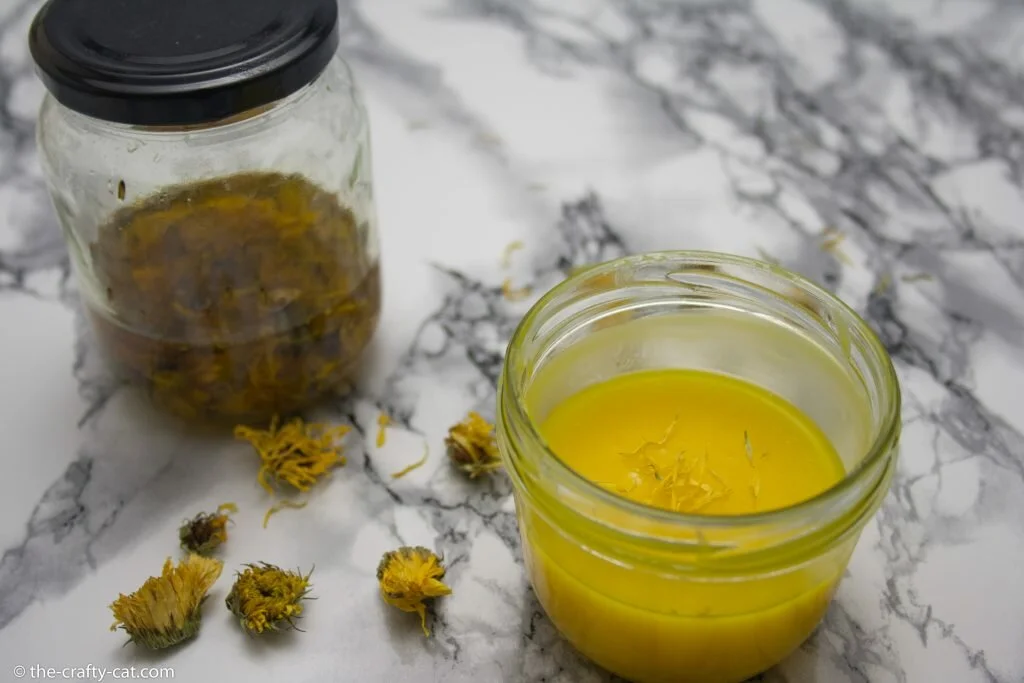 Making your own calendula salve
It really only takes about 15 min to make your own calendula salve and you only need 2 ingredients that you probably already have at home if you are a frequent DIYer. You can also use this same recipe for other herbal salves such as echinacea, lavender, chamomile etc.
What you will need
1 cup / 175 ml of calendula infused oil (learn how to infuse your own or purchase here)
1 ounce / 28 g beeswax (or more for a harder more solid salve)
half-pint / 230 ml mason jar or other container
How to make it
If using oil you infused yourself, strain the herbs out of the oil pressing as much as you can out of the plant matter. so you don't lose any of the precious oil.
Add the infused oil and the beeswax to a double boiler or water bath and allow the wax to melt over low heat. It is important to keep the heat as low as possible to avoid burning off any of the beneficial properties of the calendula, so be patient.
Once the beeswax is completely melted, pour the mix into a jar or container and allow to harden. Once solid you are ready to use it.
Store in a cool dark place for up to 2 years (depending on oil shelf life).
I hope you enjoy this salve as much as I do!
If you like this post, don't forget to pin it!
Other posts like this one: